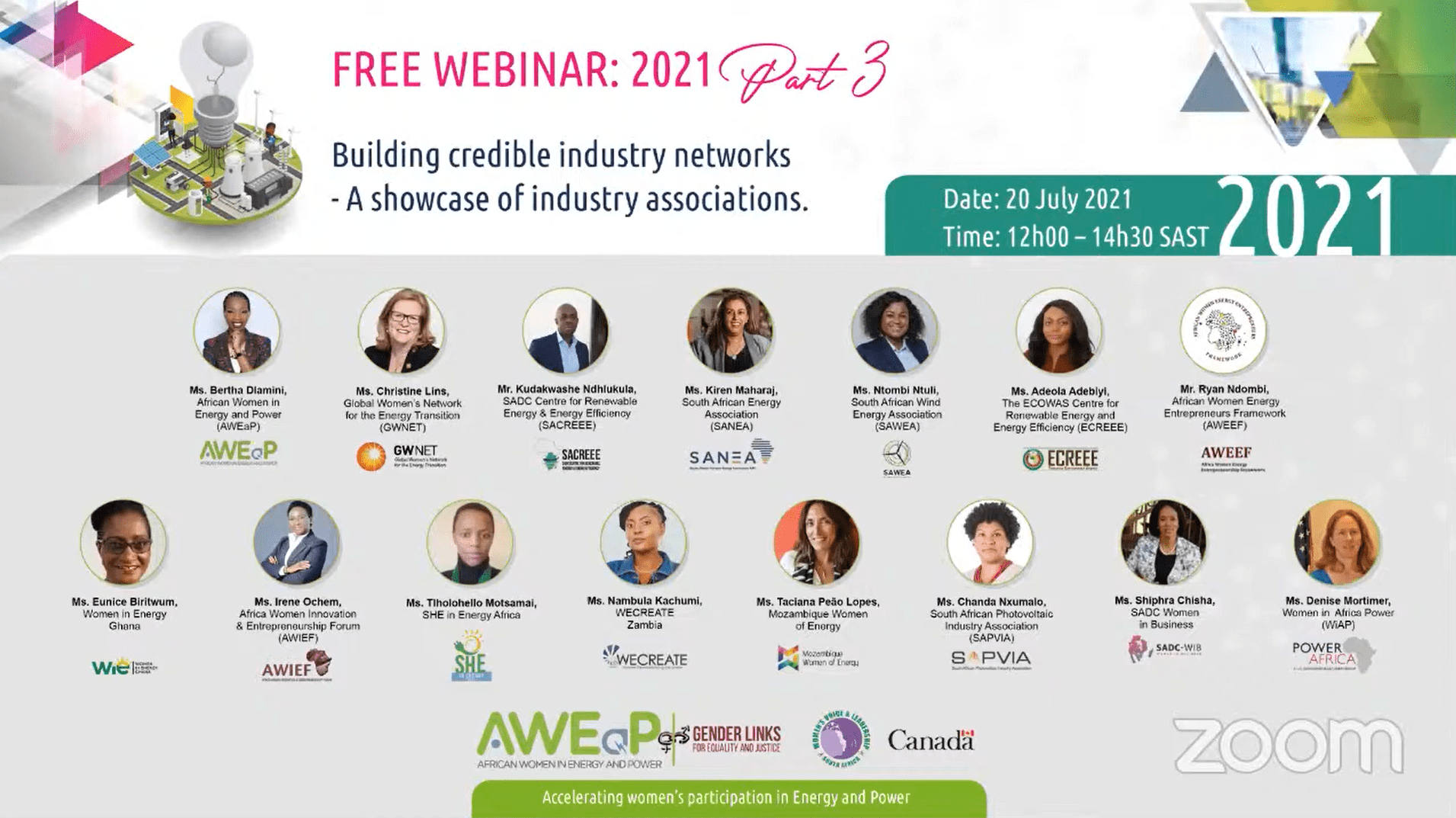 Date: July 20th 2021 at 12:00 SAST
Location: Online
Description: GWNET Executive Director, Christine Lins, took part in the third edition of the Advancing and Supporting the Participation of Women Entrepreneurs in the Energy and Power Sector (AWEaP) webinar, on "Building Credible Industry Networks."
This webinar brought together 15 industrial organisations from the energy and power sectors to showcase their value propositions for the sector and for women entrepreneurs. Moreover, the participating industry associations covering 3 regions of the African continent, namely Southern Africa, East Africa and West Africa had 10 minutes each to display their organisations including initiatives that will benefit women entrepreneurs.
In attendance were representatives from GWNET, African Women in Energy and Power (AWEaP), SADC Centre for Renewable Energy and Energy Efficiency (SACREEE), South African Energy Association (SANEA), South Africa Wind Energy Association (SAWEA), ECOWAS Centre for Renewable Energy and Energy Efficiency (ECREEE), African Women Energy Entrepreneurs Framework (AWEEF), Women in Energy Ghana, Africa Women Innovation & Entrepreneurship Forum (AWIEF), SHE in Energy Africa, WECREATE Zambia, Mozambique Women of Energy, South African Photovoltaic Industry Association (SAPVIA), SADC Women in Business, and Women in Africa Power (WiAP).
With this event, GWNET continues to strive in creating opportunities for the energy transition, while simultaneously tackling the issue of gender imbalance in order to provide equal opportunities for all in the energy domain.
Watch the webinar recording.