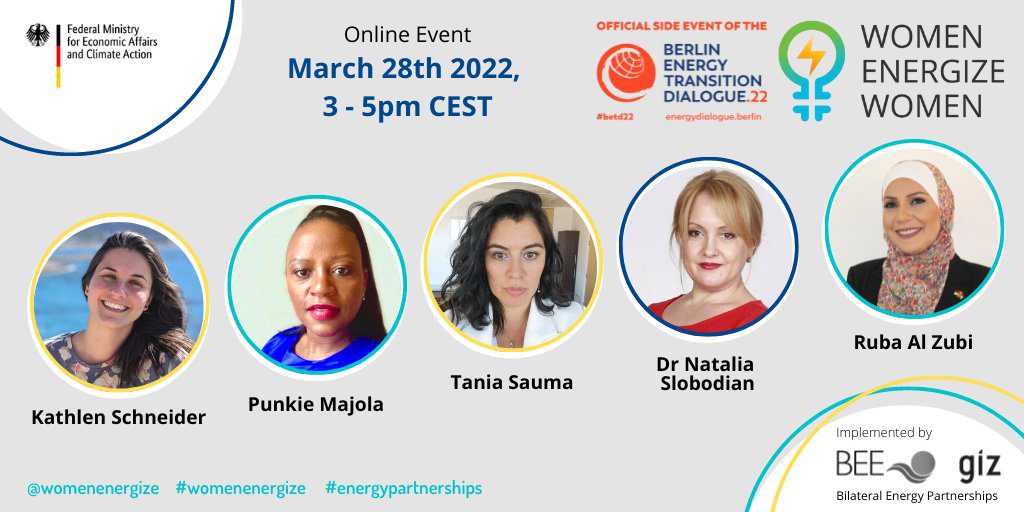 Date: March 28th 2022 (15:00 – 17:00 CET)
Location: Online
Description: The "Women Empowerment in the Energy Sector: Best Practices Worldwide" event was organised in collaboration with GWNET and Deutsche Energie-Agentur (dena), as an Official Side Event of the Berlin Energy Transition Dialogue, which is a leading international forum for key stakeholders of the energy sector.
GWNET executive director, Christine Lins, gave the closing remarks for this event, which sought to bring together representatives from various countries to shed light on the different approaches to gender mainstreaming and to identify common solutions, possible synergies and further needed action.
The event was part of the "Women Energize Women" campaign, which is a communication initiative of the German Federal Ministry for Economic Affairs and Climate Action (BMWK). It is implemented by the Deutsche Gesellschaft für Internationale Zusammenarbeit (GIZ) GmbH and the German Renewable Energy Federation (BEE) within the scope of BMWK's global project Bilateral Energy Partnerships. The aim of "Women Energize Women" is to inform, mobilise, inspire and connect women around the world who are working to advance the energy transition.
Read the event outline and watch the event recording.