The International Hydropower Association (IHA) World Hydropower Congress was held in Paris, from the 14th to 16th of May 2019. During this Congress, GWNET in partnership with IHA and Women in Hydropower (USA) hosted a Women in Hydropower: Networking Lunch, the first in a series to empower women professionals in the sector with the aim to achieve greater gender diversity.
The event was attended by 35% of all women participants at the Congress and included 4 main speakers including:
GWNET Board Member, Barbara Fischer-Aupperle

Senior Advisor Hydro-Québec, Christine Cantin

President of the National Hydropower Association (NHA), Linda Church Ciocci

Co-founder Women for Water, Lesha Witmer
The speakers: discussed their experience as mentors – providing vital support to younger women professionals; encouraged mentoring among women as an enriching experience for both parties; highlighted their organisation's initiatives to advance gender equality in renewable energy; and emphasized the importance of data in furthering the attainment of gender diversity in hydropower.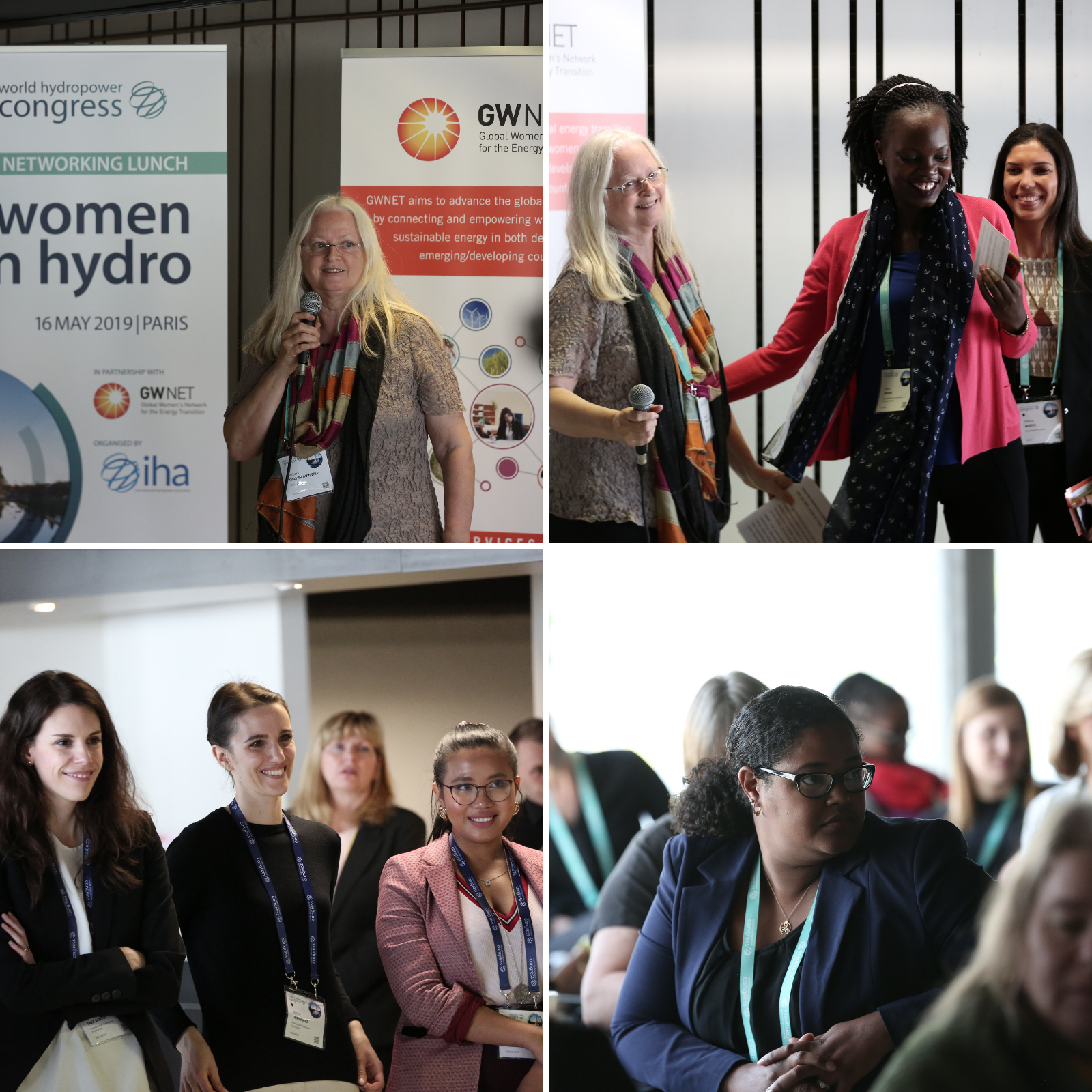 GWNET Board Member, Barbara Fischer-Aupperle, also emphasized the goals of GWNET, its rapid growth over the last 2 years, and its new Women in Energy Expert Platform which connects women on the rise in sustainable energy.
Barbara was joined by two of her mentees; Flavia Anyiko from Uganda – under the Women in Hydropower Mentoring Programme and Milena Murta from Brazil – under the GWNET 2/2019 Mentoring Programme. Both Flavia and Milena were sponsored by their organisations to attend the event after they advocated for access to and engagement in key networks in the hydropower sector. The initiative they displayed is a key success of their mentoring programmes, both of which aim to support accelerated professional growth as well as increased participation by women in high-level events and networks.
Moving forward, GWNET hopes to help drive the increase in the share of women in panel sessions at future Congresses, in addition to supporting a full panel session on gender perspectives in the hydropower industry.