This article was originally posted on the GWEC website.
---
As we enter 2020, we leave behind a decade of successes and challenges in clean energy and climate action.
Wind and solar energy now represent the lowest-cost option for power generation in markets where two-thirds of the global population live, according to BloombergNEF. Wind and other forms of renewable energy are on-track to generate around one-quarter of the world's electricity by 2030, driven by national green deals and ambitious emission reduction targets from governments and corporates alike.
Yet global emissions continued to rise through 2019, according to the Global Carbon Project. Sea levels climbed steadily higher, as sea ice retreated. Analysts increasingly agree that a 1.5-degree pathway by 2030 is out of reach if the status quo is maintained; current rates of change in energy demand, energy efficiency, electrification and decarbonization are insufficient to reverse a course towards devastating climate change for many parts of the world.
There is more urgency than ever to align political, financial, economic and social resources to create a greener world in the next 10 years. A chief concern will be how to harness the skills and talent needed for this mission – and in so doing, make the global energy transition more gender-equitable.
A gender perspective of wind energy
The role of women in the energy sector should be highlighted for two main reasons: necessity and fairness. Women will be a transformative force in providing the labour and innovation required to supply skilled clean energy workforces in emerging markets and coordinate on international climate action. Meanwhile, the dividends of the energy transition – employment, capital, security, health and other benefits – should be distributed in an equitable way.
To champion greater gender diversity in wind energy, GWEC launched the Women in Wind Global Leadership Program in April 2019, in partnership with the Global Women's Network for the Energy Transition (GWNET). The program aims to advance the role of women as agents of change in the global energy transition, and contribute to a more just, innovative and prosperous society.
As a multidimensional program including mentorship, learning and development, exclusive webinars, a study tour and an online storytelling campaign, Women in Wind is designed to accelerate the careers of women in wind power, support their pathway to senior leadership and foster a global network of knowledge-sharing and empowerment. Our inaugural year welcomed 16 mentors and mentees from emerging wind markets in Latin America, Africa and South East Asia, and was supported by MHI Vestas, Mainstream Renewable Power and GE Renewable Energy.
Women in Wind reached a number of milestones in 2019:
The program kicked off 2020 by partnering with IRENA for a new report called "Wind energy: A gender perspective," analyzing representation of women in the wind sector. As shown in the chart below, survey data from nearly 1,000 respondents from 71 countries shows that women represent 21 per cent of the wind energy workforce – on par with the share of women in the oil and gas industry (22 per cent), but below the share of women in the global renewables sector (32 per cent).
Shares of women by role in the wind energy sector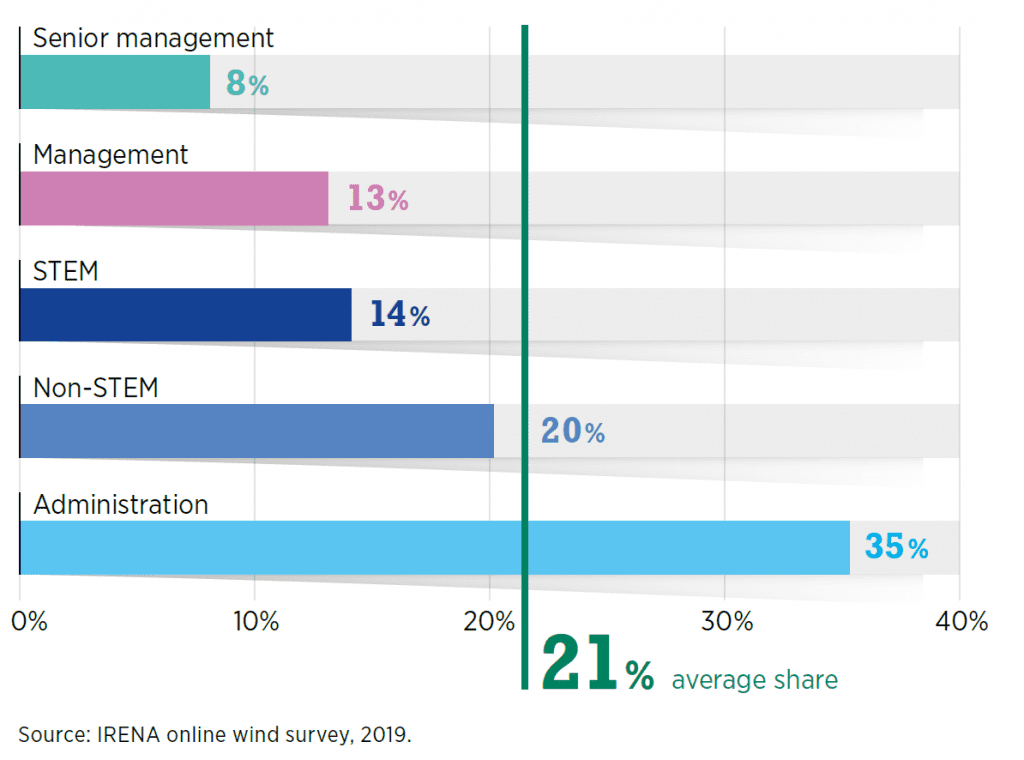 Breaking down this data into job roles finds that women in wind energy are generally more prevalent in administrative and non-STEM functions than in STEM and management roles. Notably, only 8 per cent of senior management (owners or board members) in the wind sector were found to be women.
As in the global renewables sector, the majority of women working in wind energy perceive gender-related barriers (see graphic below). These range from perception of gender roles and male-biased norms to prevailing hiring practices. Perception of a gender pay gap is one of the key barriers to retention, as the largest wage inequities exist in executive roles; a whopping 54 per cent of female respondents believe that men are paid more than women for equivalent work in wind energy, according to the IRENA survey.
Barriers to entry for women in wind energy, ranked by respondents in order of importance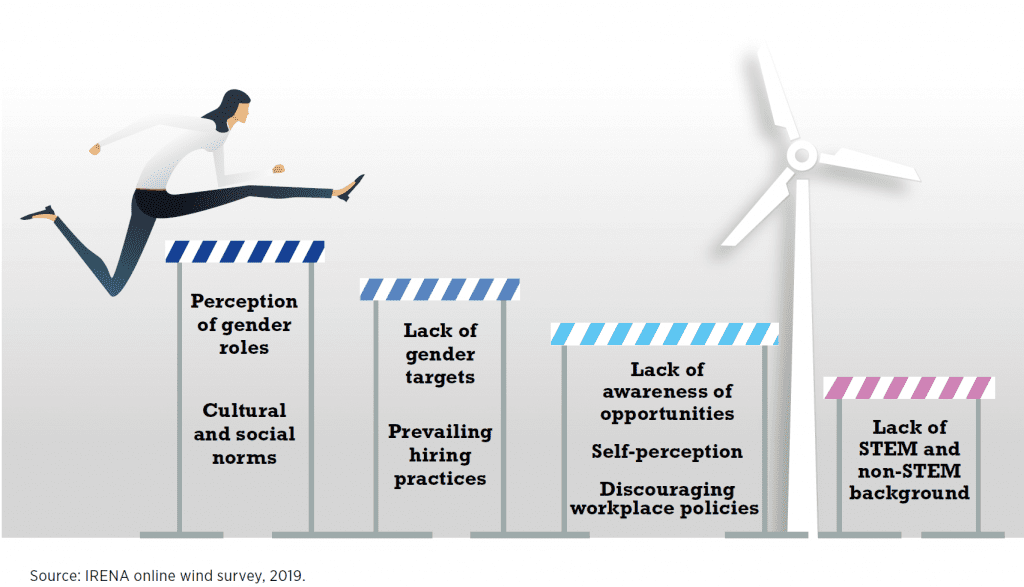 The path ahead for Women in Wind
The data above tells a story of a wind energy workforce which is yet to reach its full potential, and a sector that must do all it can to strengthen its appeal to female talent.
There is no perfect formula for diversity, but helpful measures range from mentoring opportunities to policies which encourage work-life balance and equal opportunities for professional development. Diversity initiatives must be monitored and reported as a priority to a company's board and senior leadership. Women must be highlighted as thought leaders at internal and external events, in order to challenge existing gender norms.
Ten years from now, the gender-inclusivity of our global efforts will determine how much we have achieved in the fight against climate change.
Applications for Women in Wind 2020 will be launched in January, with the ambition to continue supporting women working in emerging wind energy markets, and together ensure that the global energy transition is inclusive and gender-equitable.