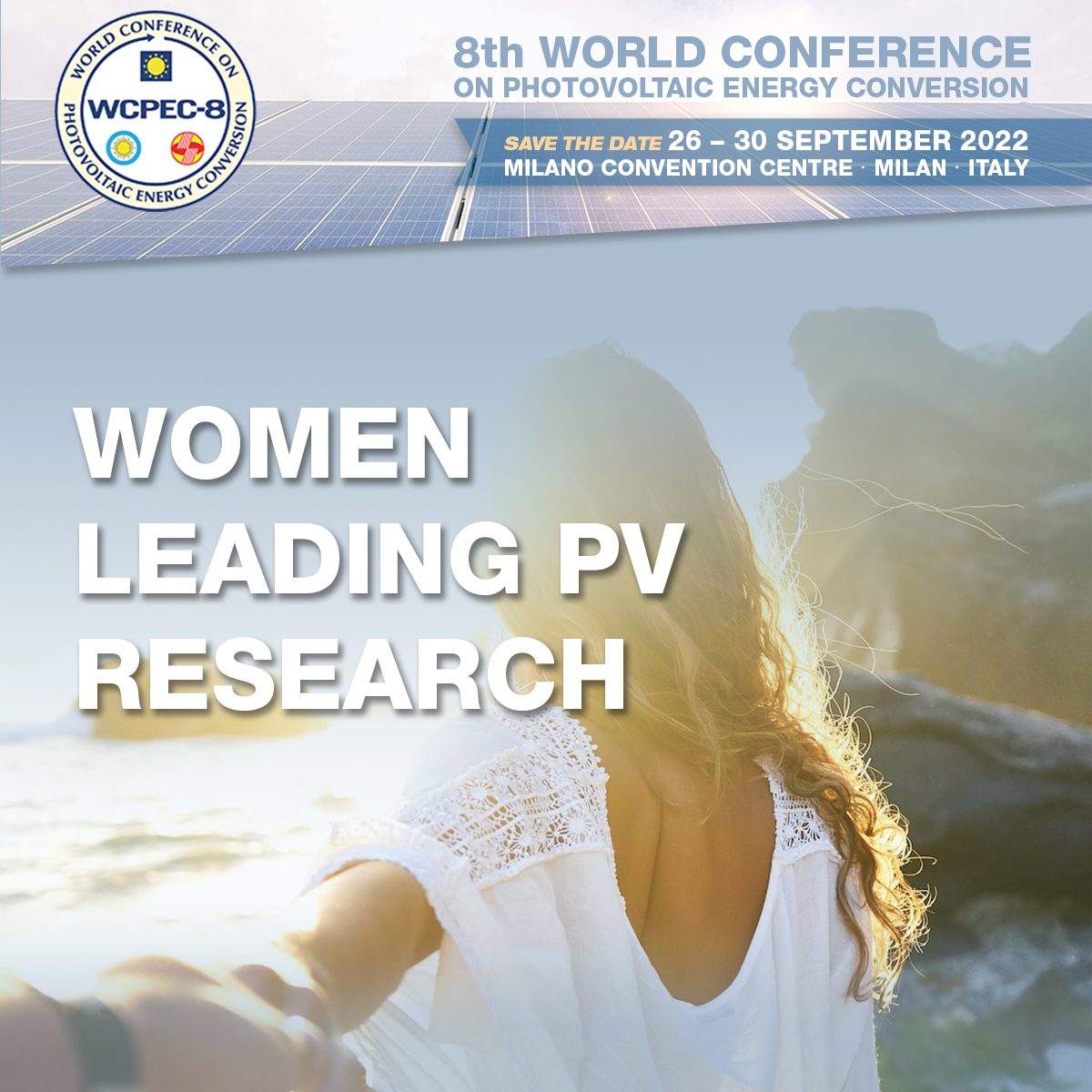 Date: September 29th 2022 (10:30 CET)
Location: Milan, Italy & Online
Description: The hybrid event 'Women Leading PV Research' was held on 29th September, as part of the World Conference on Photovoltaic Energy Consumption (WCPEC). The event was organised by GWNET and WIP Renewable Energies in partnership with Deutsche Gesellschaft für Internationale Zusammenarbeit (GIZ) GmbH and on behalf of the German Federal Ministry for Economic Affairs and Climate Action (BMWK).
The goal of this event was to create a vibrant debate about the challenges and obstacles, as well as the lessons learned and, most importantly, the success stories of female leaders in PV research. Also, discussed were insights into the development of diversity in the solar PV sector.
The keynote of the event was presented by Dr Rabia Ferroukhi, Director of Knowledge, Policy and Finance, IRENA, who officially launched the IRENA report "Solar PV: A Gender Perspective." Katarzyna Rezza Vega, Global Communication and Gender Expert, Bilateral Energy Partnerships, GIZ, also gave a short presentation on women's empowerment through Germany's Energy Partnership Programme.
These introductory addresses were followed by a panel moderated by GWNET Senior Advisor, Irene Giner-Reichl, which included the following panellists:
Alessandra Scognamiglio, WCPEC-8 Conference General chair, National Agency for New Technologies, Energy and Sustainable Economic Development (ENEA), Italy
Laura Schelhas, Group Manager Hybrid and Nanoscale Materials Chemistry, National Renewable Energy Laboratory (NREL), USA
Veronica Bermudez Benito, Senior Research Director, Qatar Environment and Energy Research Institute, Qatar
Izumi Kaizuka, Director, Principal Analyst, RTS Corporation, Japan
Phoebe Pearce, Research Fellow, UNSW, Australia
Following the panel discussion, there was a Q&A discussion with members of the panel.