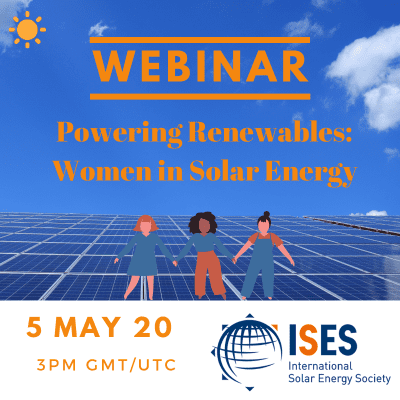 Date: May 5, 2020 @ 15:00 GMT
Location: Online
Description: Executive Director, Christine Lins, took part in the webinar on Powering Renewables: Women in Solar Energy III organised by the International Solar Energy Society (ISES).
The aim of this webinar was to highlight the perspectives of women working in solar energy, their professional as well as personal experience, their achievements and to demonstrate that a successful energy transformation can only be achieved when renewables become powered by equality!
Other panellists included Marlene Brown, Past President of the New Mexico Solar Energy Association, and Kathlen Schneider, a researcher at Solar Energy Research Lab Fotovoltaica-UFSC.
Watch the webinar recording here.