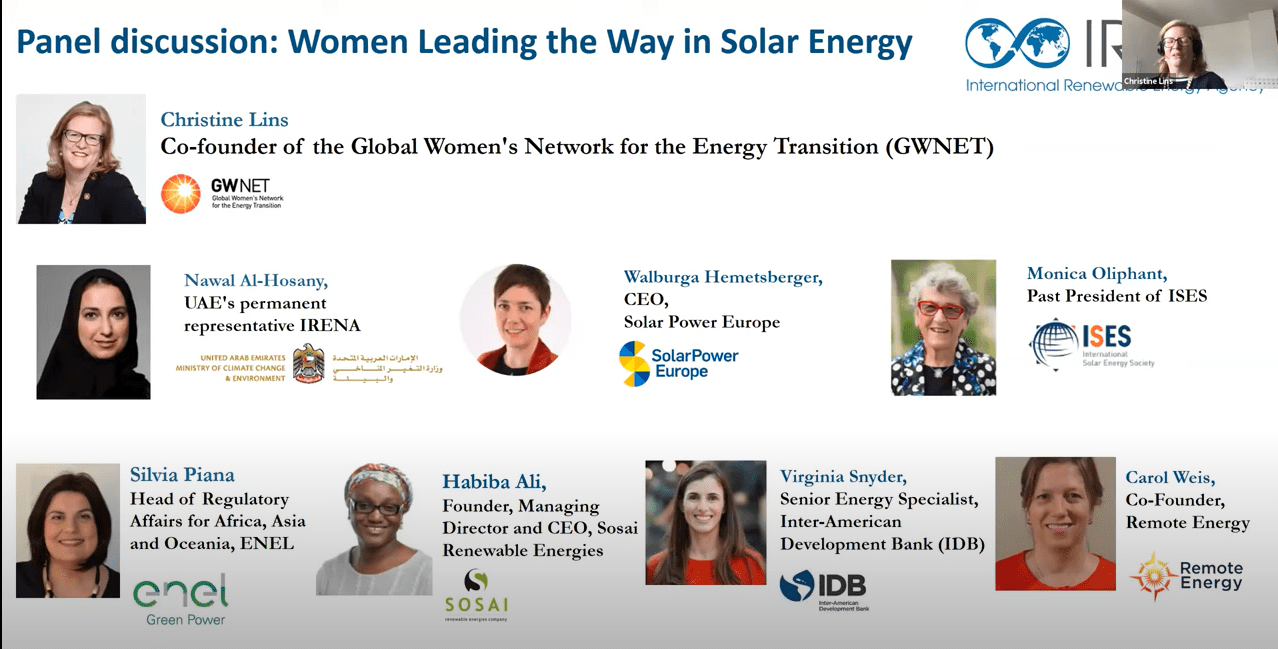 Date: March 8, 2021
Location: Online, 16:30 (GMT + 4)
Description: GWNET Executive Director, Christine Lins, took part in the Gender Equality for an Inclusive Energy Transition: Women Leading the Way in Solar Energy event – led by IRENA.
The event, held on International Women's Day, aimed to provide the stage for a dynamic dialogue on the challenges and barriers, the lessons learnt but most of all, the success stories of women leaders in the solar PV sector.
The event also served as the official launch of the new IRENA Global Gender Survey of the Solar Photovoltaic (PV) Industry that will provide the basis for the forthcoming IRENA publication Solar PV Energy: A Gender Perspective.
As part of the event, Christine moderated the main panel, which included the following speakers:
Nawal Al-Hosany, UAE's permanent representative to the International Renewable Energy Agency;
Walburga Hemetsberger, CEO, Solar Power Europe;
Monica Oliphant, Past President of ISES, member of the Coalition for Action Steering Group;
Silvia Piana, Head of Regulatory Affairs for Africa, Asia and Oceania, ENEL, member of the Coalition for Action Steering Group;
Habiba Ali, Founder, Managing Director and CEO, Sosai Renewable Energies;
Carol Weis, Co-Founder of Remote Energy;
Virginia Snyder, Inter American Development Bank (IADB)