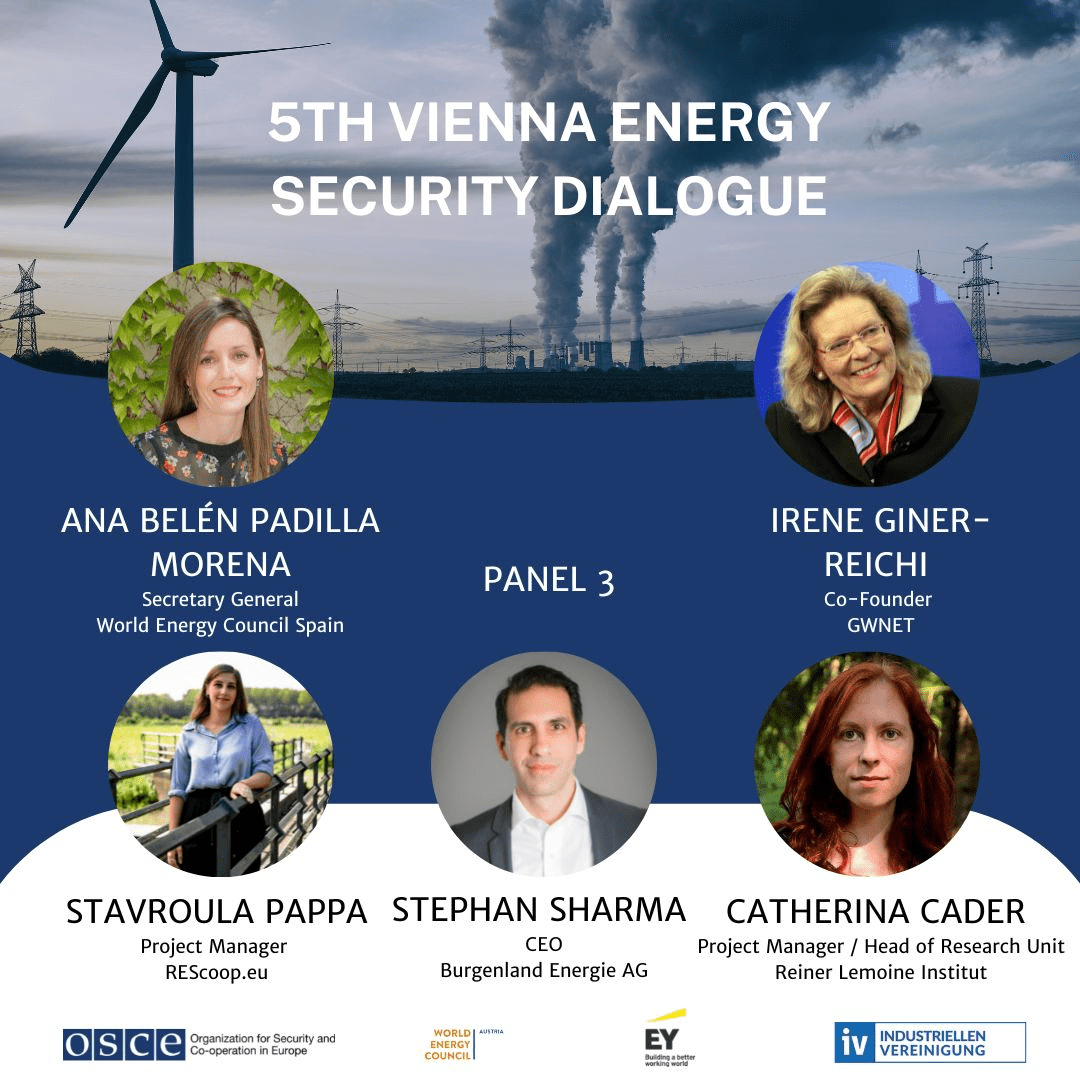 Date: November 4th – 5th, 2022
Location: Vienna, Austria
Description: The fifth edition of the Vienna Energy Security Dialogue was jointly led by the OSCE and the World Energy Council, with the goal of  "tackling current energy security challenges from commercial, political and socioeconomic perspectives in times of crisis." This dialogue brought together decision-makers from the private sector, public sector, academia, and civil society to discuss opportunities and challenges around the energy transition.
The dialogue which was held under the theme "Coping with Tensions" was composed of three main panels, including 1) the future of oil and gas, 2) the green energy revolution, and 3) humanising the energy transition.
GWNET Senior Advisor, Irene Giner-Reichl, took part in the third session on humanising the energy transition, where she discussed equality and inclusion within the sector, as well as challenges brought about by conflict and their gender dimensions. Also in attendance were 17 women from Central Asia (Kazakhstan, Kyrgyzstan, Tajikistan, Turkmenistan, and Uzbekistan) who were participants of the "Empowering Central Asian Women in Renewable Energy" study tour, co-organised by GWNET and OSCE.
Other speakers during this panel included:
Ivo Wakounig, Senior Advisor, World Energy Council Austria
Stephan Sharma, CEO, Burgenland Energie AG
Catherina Cader, Project Manager and Head of the Research Unit Off-Grid Systems, Reiner Lemoine Institut gGmbH
Stavroula Pappa, Project Manager, REScoop.eu
Ana Padilla Moreno, Secretary General, Club Español de la Energía