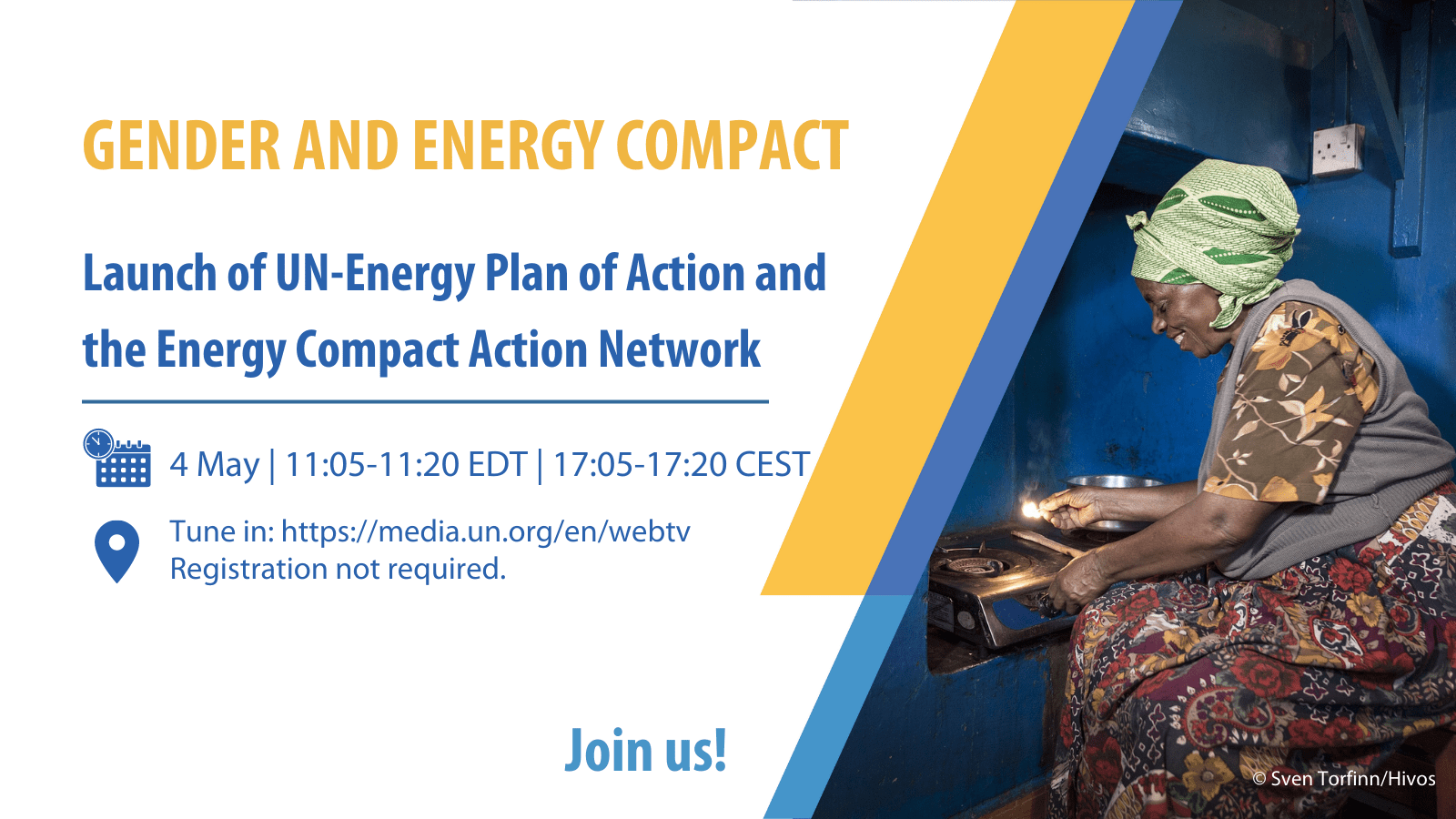 Date: May 4th 2022 (17:05 – 17:20 CEST)
Location: Online
Description: The UN launch of the UN-Energy Plan of Action and the Energy Compact Action Network took place on May 4th 2022. The Action Network, a new multi-stakeholder mechanism supported by UN-Energy, brought together governments, businesses and other civil society partners who have committed to Energy Compacts, in order to direct investment, know-how and resources to help achieve the commitments made.
The launch event featured several new or expanded coalitions that will tackle challenges of energy access, clean cooking and energy transition in countries that have put forward Energy Compacts.
As part of the launch, a session was held on the Gender and Energy Compact which highlighted how coordinating entities and signatories aim to accelerate action for women to have equal opportunity to lead, participate in and benefit from a just, sustainable and inclusive energy transition and also to have equal access to and control over sustainable energy products and services.
The session included a panel moderated by Nisha Pillai, former BBC Anchor, with the following speakers:
Mollie Johnson, Assistant Deputy Minister, Energy Systems Sector, Natural Resources Canada, Government of Canada
Paul Mbuthi, Deputy Director of Renewable Energy, Ministry of Energy, Kenya
Shakti Ramkumar, Director of Communications and Policy, Student Energy
Sheila Oparaocha, Director, ENERGIA International Network on Gender and Sustainable Energy
Closing remarks were given by Cecilia Ugaz Estrada, Director of Gender Equality and Empowerment of Women Office and Special Advisor, Office of the Managing Director, Directorate of Corporate Management and Operations, UNIDO.
The Gender and Energy Compact was launched by UNIDO, ENERGIA and GWNET. Canada, Ecuador, Iceland, Kenya, Nepal, Sida/Sweden and US/PowerAfrica and more than 55 partners from civil society, academia, youth, financial sector, private sector, and international organizations joined under the same overall objective: To promote a just, inclusive, gender-responsive and climate resilient energy transition. This includes access to affordable, reliable and sustainable energy for women to reduce women's burden, free up their time and protect women's health.