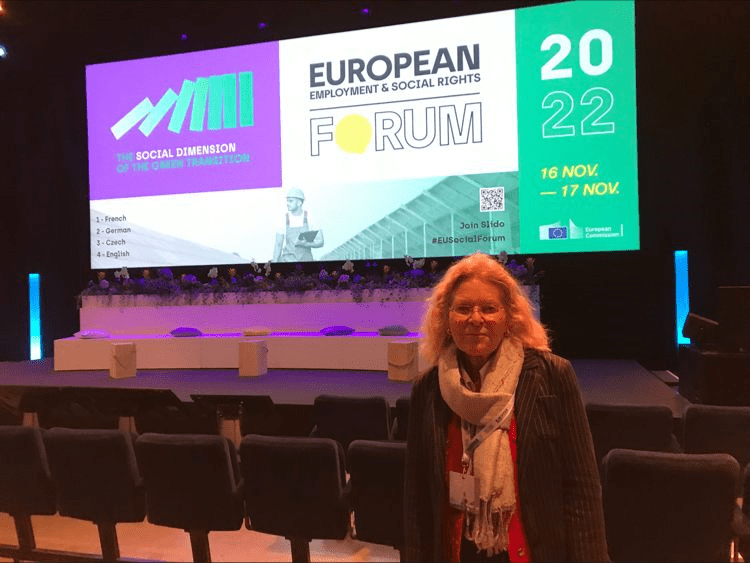 Date: November 17th, 2022
Location: Brussels, Belgium
Description: The first edition of the European Employment & Social Rights Forum was led by the European Commission with a focus on how to achieve a fair and inclusive green transition for all.
On the second day of the programme, GWNET Senior Advisor, Irene Gnier-Reichl, took part in a panel titled From vision to reality: ensuring an inclusive transition for all, which sought to discuss "concrete ways forward promoting fair transitions and solidarity, alleviating distributional impacts and ensuring that no one is left behind."
During this panel, speakers discussed the most vulnerable groups in the green transition, challenges these groups are facing and how to protect them, solutions for a just green transition, as well as the needed policies, investments and support measures.
During her intervention, Irene reiterated the importance of women as agents of change within the green transition, as well as opportunities to support increased gender equality across the value chain.
Other speakers in the panel included:
Ali Aslan, Journalist (moderator)
Mikael Leyi – SOLIDAR, Secretary General.
Juliana Santos Wahlgren – European Anti-Poverty Network, Director.
Carlos Tapia – Nordregio, Senior Research Fellow.
Myriam Douo – Equinox Initiative for Racial Justice, Climate advisor.